Power Onboarding Webinars On Demand With Michael Watkins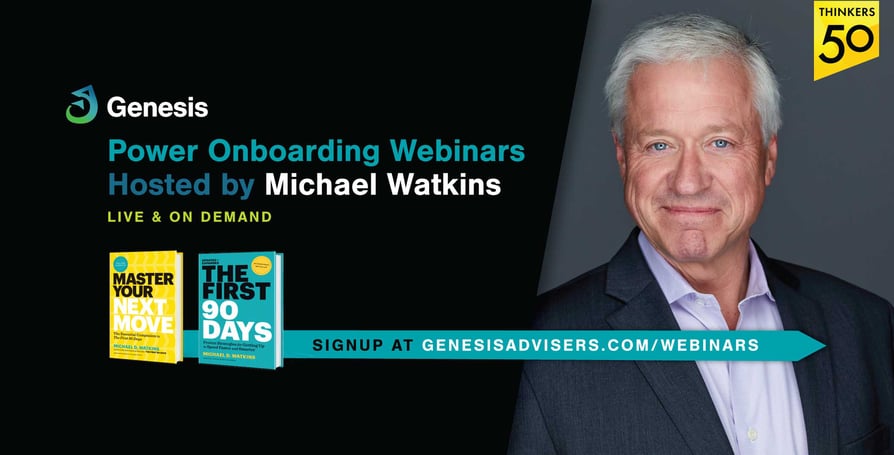 Genesis produces a Power Onboarding Webinar series hosted by our cofounder Michael Watkins, best-selling author of The First 90 Days and Master Your Next Move, Professor of Leadership and Organizational Change at IMD Business School, and globally recognized leadership transitions expert. Offered quarterly and attended by professionals in transition as well as HR and talent management leaders, the series covers thought leading themes related to onboarding and integrating leaders, teams and organizations.
Please enjoy the following Power Onboarding Webinar titles on demand. Click on the title to watch the 60-minute webinar and then join the discussion, share insights, and get valuable feedback from your peers on our First 90 Days Linked In Group.
Genesis co-founder and webinar host Michael Watkins and Genesis Leadership Consultant and author, Nicholas Janni, who specializes in coaching leaders in the discipline and practice of "the zone," will discuss Nicholas Janni's new leadership model and book, "Leader as Healer." Our two experts will be joined by esteemed guest, Eugene Woods, Atrium Health President and CEO, who exemplifies this new breed of leadership.
As our three webinar presenters shared in their 2021 Top 10-ranked MIT Sloan Management Review article, "Why Every Executive Should be Focused on Culture Change Now," the pandemic accelerated three types of transformation across industries: the adoption of digital technologies, the development of new business models, and the implementation of new ways of working. While most executives recognize the transformation imperative, far fewer understand the essential connection between business transformation and culture change. Click on the title to watch the webinar replay with Genesis co-founder and Thinkers-50 influencer Michael Watkins and Genesis Leadership Consultants Rose Hollister and Cindy Wolpert.
The pandemic has resulted in major shifts in the way we work. Effective leadership in this new hybrid world requires different skills that go beyond traditional team leadership. Specifically, organizations will need leaders who can operate well across two distinct modes. For much of the time, they will operate in virtual coordination mode. This means establishing goals, monitoring progress, driving information sharing, and sustaining connections among colleagues working remotely. When their teams periodically come together to engage in true collaboration, leaders will need to operate in face-to-face collaboration mode, fostering deep learning, innovation, acculturation, and dedication. Watch our webinar replay when our host Michael Watkins and fellow IMD Professor Robert Hooijberg share insights from their MIT Sloan Management Review article, "The Future of Team Leadership is Multi-Modal," which ranked Number 1 in The Review's top 10 most read articles in 2021.
Project managers are, unsurprisingly, trained in and skilled at managing. They organize, plan, budget, control, and solve problems. However, as projects become more complex, in domains such as drug discovery, infrastructure construction, and software development, leadership ability becomes ever more critical. Project leaders must align with important constituents on vision and strategy, integrate diverse specialists' work, navigate in multi-layered matrix organizations, build high-performing teams, manage inevitable conflicts and strategically influence key stakeholders. Watch our webinar replay to learn from Michael Watkins and Genesis Leadership Consultant Janet Spencer, who share their formula for developing project leaders at scale based on their recent experience designing and implementing a program to develop hundreds of project leaders at a Fortune 100 organization.
To provide scalable onboarding journeys to newly hired senior leaders, Intel worked with Genesis Advisers to design and implement a First 90 Days User Experience. The system offers customized onboarding and integration journeys for targeted leader levels at Intel and leverages Genesis's proven First 90 Days methodology, expertise, and rich resource library. Watch the webinar on demand with Intel's Human Resources Vice President and Chief Learning Officer Noah Rabinowitz, Intel's Executive On-boarding and Integration Manager Drew Jensen, Genesis's Senior Enterprise Onboarding Systems Designer Rose Hollister, and Genesis Co-Founder and webinar host Michael Watkins.
Earlier this year we polled leaders about their companies' current onboarding practices. Of the 125 who responded, 75% said that their organizations were still onboarding leaders. However, only 17% indicated that their organizations had developed systems for onboarding new leaders into remote-work environments. That's a big gap, given that most onboarding is happening virtually now and that the stakes in quickly getting new talent up to speed have rarely been higher. With companies shifting to a remote work norm, HR, Learning and Development, and Talent Management professionals are faced with having to re-think how they support key talent. Now more than ever companies must innovate and find ways to support new-hire and internal onboarding remotely. Watch this webinar on demand, when Michael Watkins and Genesis Leadership Consultant Rob Hollin will share how organizations can maximise virtual impact through learning cycle design to onboard and integrate new leaders effectively in a remote work environment with The First 90 Days Experience.
In their Harvard Business Review article "How Insider CEOs Succeed," WittKieffer President and CEO Andrew Chastain and Genesis Co-Founder and IMD professor of leadership and organizational change Michael Watkins, write that while one might think an internally-promoted CEO would have an easier time adjusting to and excelling in the job than external hires would, the reality is that chief executives who have advanced from within face hurdles that are comparable in magnitude, albeit different in character, from those that externally hired leaders confront. Yet, externally hired CEOs typically get more attention than internal executives with the rationale that the latter are known commodities, theoretically carrying less risk. Watch this webinar to learn more about the five major challenges insider CEOs face and how to better support them, from the dual perspectives of executive placement and leadership development offered by our two experts.
It's all-too-easy to shift into "action mode" during a crisis and forget that your people are experiencing great uncertainty about their futures. So, even as you experience the powerful impulse to act, temper that with a focus on coaching your people through a potentially crippling period of uncertainty. While the situation may be very difficult, and there are no magic bullets, there are a few things that can help. Watch this webinar with Genesis Leadership Consultant Brenda Steinberg and Michael Watkins, who will share their principles for successfully coaching your employees through the COVID-19 crisis based on their jointly authored Talent Management and HR article.
With organizations shifting to a new remote work norm, now more than ever HR and Talent Management professionals must innovate and find ways to support new-hire and internal onboarding remotely. There are concrete things you can do to onboard new people effectively in a fully virtual environment, but you have to have the right approach. Watch this webinar with our two virtual onboarding experts, Kelly Huang and Michael Watkins, to hear their six principles for successful remote onboarding.
Over the past decade, organizations have faced major increases in complexity, uncertainty and volatility. Building and sustaining high performing leadership teams has become challenging in the face of such changes. It's also one of the most important things a CEO must do to ensure the success of an organization. Drawing on decades of experience working with top executives and their teams, Genesis Leadership Consultant Ron Meeks and Co-founder Michael Watkins share their six principles for Building High-Performing Leadership Teams.
In this webinar Michael Watkins will introduce you to the key challenges leaders face during a transition to an enterprise leadership role and how to navigate them. Originally outlined in his Harvard Business Review article "How Managers Become Leaders," Watkins's Seven Seismic Shifts™ framework forms the basis for the leadership development processes designed to develop future enterprise leaders at Genesis, a global leadership development consultancy based in Boston Massachusetts cofounded by Watkins. It is also the basis of the Transition to Business Leadership open program co-directed by Michael at IMD Business School in Switzerland, which has ranked #1 globally by the Financial Times in open programs for eight consecutive years.
In "7 Ways to Set Up a New Hire for Success" (Harvard Business Review, May 2019) Michael Watkins writes, "No one has a bigger impact on new employees' success than the managers who hired them. Why? Because more than anyone else the hiring manager understands what his or her people need to accomplish and what it will take — skills, resources, connections — for them to become fully effective. Managers also have the biggest stake in onboarding their new hires effectively." In this webinar, Michael Watkins and Genesis Leadership Consultant Jan Thibodeau share practical, actionable advice to help managers jump start the onboarding process and get their new hires up to speed faster.
Michael Watkins and Harvard Business Review Press Executive Editor Jeff Kehoe share their insights and discuss leadership career challenges outlined in the newly updated edition of Master Your Next Move: The Essential Companion to The First 90 Days. Don't miss this unique opportunity to take home insights from not one but two seasoned leadership experts, when we explore the most common types of transitions leaders face and the unique challenges posed by each, such as being promoted, leading former peers, onboarding into a new company, making an international move, and turning around a business in crisis.
In this Power Onboarding Webinar, Michael Watkins and Genesis Leadership Consultants Rose Hollister and Elizabeth Collins illustrate how Genesis helped a Fortune 500 global company onboarding 20K people each year design and implement consistent impactful onboarding journeys for employees at all levels. The process included the selection of an onboarding technology platform, linkage to resources for leadership development, guidance for orientation to the business, and First 90 Days support for transition acceleration.
Most newly-appointed leaders assume that they need to foster teamwork among the people who directly and indirectly report to them. Teaming is now seen as the workplace equivalent of motherhood and apple pie — invariably good. The problem is when leaders try to drive the wrong kind of collaboration on their particular teams. The result: wasted time and unnecessary frustration. Before embarking on any team-building activities or even setting up team meetings, leaders must ask themselves one question: Am I managing a high-performing group of individuals or a high-performing team?
If "the essence of strategy is choosing what not to do," as Michael Porter famously said in a seminal Harvard Business Review article, then the essence of execution is truly not doing it. That sounds simple, but it's surprisingly hard for organizations to kill existing initiatives, even when they don't align with new strategies. Instead, leaders keep layering on initiatives, which can lead to severe overload at levels below the executive team. With record low unemployment, companies that do not adjust the workload are also at risk of losing valuable talent.
In this webinar, based on their recent feature article "Too Many Projects" (Harvard Business Review, Sept 2018), co-authors Michael Watkins and Rose Hollister will tell you how to spot the signs of initiative overload and how to take steps to address it in your organization.
When people move into new leadership positions they are often left to their own devices. As a result, they may flounder before finding their bearings, or indeed derail at great cost to the organization. When Terrence Donahue joined Emerson as Corporate Head of Learning and Development, a company with an already praiseworthy talent development culture, he analyzed performance data from business units across the company and found that 22 percent of Emerson's underperforming sites directly correlated to failed leadership transitions. This was sufficient evidence to support development of new skill building into the leadership curriculum. Donahue had read The First 90 Days by Michael Watkins and approached Genesis to co-design and implement a customized enterprise transition support program that would be rolled out globally.
It is an astonishing fact that "sink or swim" is still a common modality when it comes to executive onboarding. What makes this lack of support at such a pivotal point in an executive's career puzzling is its stark juxtaposition with the amount of money invested in the hiring process, the high cost of derailment, and the fact that unsupported transitions are twice as likely to fail as their supported counterparts. Now, consider the natural flow of human capital in an organization and the ripple effect of unsupported transitions on the workforce, and you begin to see how truly crucial enterprise-wide transition support is to an organization's overall performance.
In this webinar, Michael Watkins will share the virtual podium with Rose Hollister, former Director of the Leadership Institute at McDonald's, where she was responsible for developing 1,600 leaders globally. Rose is an expert in the design and implementation of enterprise-wide transition support systems and recently joined Genesis Advisers as a Senior Associate. The two leadership experts will draw on their respective experience in this field, illustrating the variety of solutions available with three unique client case studies.
Many businesses think they are doing a good job of executive onboarding when they actually aren't. Nearly all large companies are competent at the administrative basics of signing up new hires. However, many do surprisingly little to help onboarding executives understand the business, integrate into the culture, and connect with key stakeholders. Companies vary vastly in how much effort they put into the integration of executive hires, with major consequences for time to performance, derailment rates, and talent retention.
Companies often do not provide enough early feedback to new hires and so set them up to fail. In this webinar, Michael Watkins will discuss research on the primary reasons for new-hire derailment and explore what bosses and HR partners can do to reduce failure rates and improve time to performance. He will also tell you about our First 90 Days Transition Progress Assessment, a powerful, easy-to-deploy 360º-style assessment that automates the collection and reporting of evaluations from bosses, peers, reports, and other key stakeholders, providing actionable feedback just in time.
---
---
---
---
---
PARTICIPATING ORGANIZATIONS INCLUDE
NIKE • AMAZON • BASF • P&G • YAHOO • JOHNSON & JOHNSON • GSK • JP MORGAN CHASE • NESTLE • UPS • SHELL • TELSA • PROCTOR & GAMBLE • VERIZON • THOMPSON REUTERS • HEWLETT PACKARD • S&P • GENERAL MILLS • HERSHEY • JOHN DEERE • AVISTA • HUMANA • MERCEDEZ BENZ • BOSE • EATON CORP • INGERSOLL RAND • MILLICOM • DICK'S SPORTING GOODS • AMERICAN RED CROSS • UNITEC • CLEAR ROCK • BAYER AG • DANSKE BANK • NATO • LEGO • FOX • TEVA PHARMACEUTICALS • HARLEY DAVIDSON • GENERAL MOTORS • ELSEVIER • HARVARD BUSINESS SCHOOL • CENTURA HEALTH • UNC KENAN-FLAGLER • RUTGERS UNIVERSITY • DFS • BLACK ROCK • EMERSON ELECTRIC • BRISTOL MYERS SQUIBB • INSEAD • IMD • DANONE • BARNES AEROSPACE • INTEL • COLGATE PALMOLIVE • PWC • LG • AMTRAK • UCSF • PINTEREST • 7-ELEVEN • PRUDENTIAL • CATERPILLAR...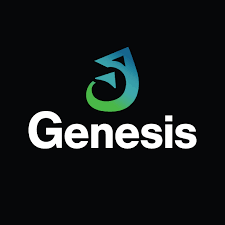 Genesis
Genesis is a global provider of leadership development programs, coaching, and transition acceleration solutions for individuals, teams, and organizations. Genesis offerings are based on the research of Michael Watkins, co-founder and author of the book "The First 90 Days." Genesis provides a comprehensive range of programs, coaching processes, and consulting services aimed at speeding up transitions at all levels, from front-line managers to C-level executives.