How Transition Coaches Accelerate Executive Onboarding
Many companies think they are doing a good job of onboarding newly-hired executives when they actually aren't...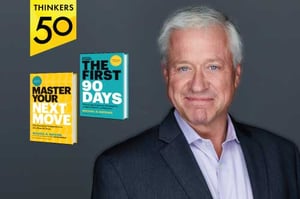 In "Onboarding Isn't Enough," a recent Harvard Business Review article co-authored with Mark Byford and Lena Triantogiannis from Egon Zehnder, we showed that many companies think they are doing a good job of onboarding newly-hired executives when they actually aren't. (To assess your own organization's onboarding system, take our Executive Onboarding Effectiveness Assessment.)
We undertook this research to test a hypothesis that skilled transition acceleration coaches and advisors could get newly-hired executives up to speed much faster and better. We surveyed a sample of executives who received this type of support, as well as their hiring managers, HR business partners, and the advisors providing the integration advice.
The research was exploratory and the findings indicative and provisional. However, the reported positive impacts were so great that the question seems to be not whether it helps to provide this type of support, but how much it does so and in what ways.
To measure impact, we asked each group—the onboarding executives, their hiring managers, HR business partners, and the advisors—to make estimates of the percentage reduction in time for the executives to become fully effective. The results, summarized below, show that the right support for integration can halve the time it takes for newly-hired leaders to get up to speed. Given the speed at which business is moving, success in realizing a 50% reduction for all new hires would create very substantial benefit to the organization. Interestingly, the advisors underestimated their impact, likely because they would rather err on the side of conservatism in self-assessment.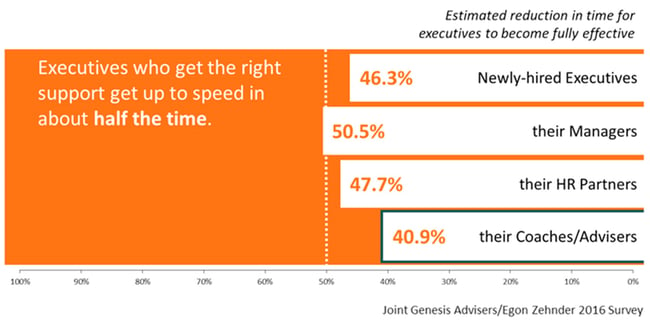 Then, there is the question of what transition acceleration advisors do that actually helps. We asked the same four groups to assess the impact of the various activities and interventions undertaken by the advisors. The results for the supported executives and their hiring managers are summarized below.
These results show that much of what the advisors did appears to have had a significant positive impact, validating the design of the support process and the quality of the advisors. Both the executives and their hiring managers agreed that the interventions that had the biggest impact had to do with (1) helping the newly-hired leaders understand the challenges they faced and set the agenda for their first 90 days, (2) getting feedback from and providing insight into key stakeholders, and (3) helping the leaders think through key decisions. Here, too, we see that the hiring managers assessed the impact of the integration advisor as being significantly more than did the leaders themselves, perhaps the result of a natural inclination on the part of the leaders to not give too much credit for their success to others.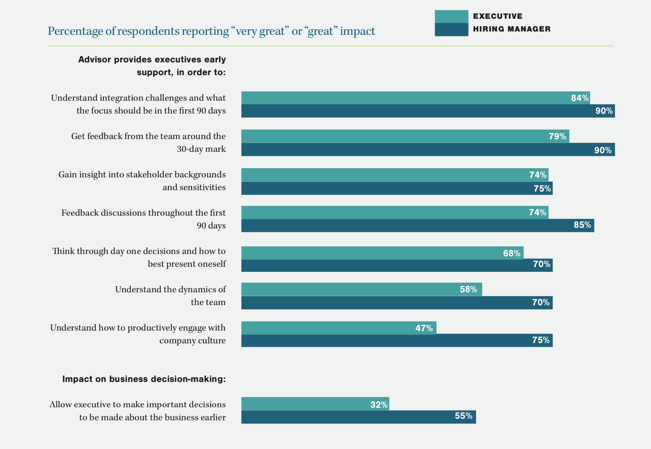 How Transition Acceleration Advice Differs from Developmental Coaching
Beyond having a well-designed process for providing transition acceleration advice, the other biggest driver of effectiveness is the quality and experience of the advisors themselves. Here, it is important to understand that transition acceleration advice is very different from leadership development coaching and that great transition advisors have different skill sets than great development coaches.
The differences in approaches and competencies are summarized in the table below. The most important concern the degree to which transition acceleration advice is provided through a more structured, front-end-loaded, and time-bound process, that the output is a very detailed first 90 days plan, and that the advisors must be able to work through significant business issues and tradeoffs with the executives, and so need a high level of business acumen.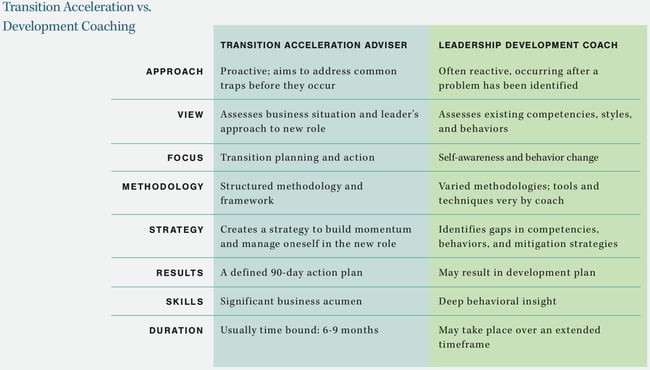 Key Takeaways
Our research provided rich insight into the limitations of many companies' existing executive onboarding systems. So, start by assessing how well your company is doing today by using the

Executive Onboarding Effectiveness Assessment.
If your company has a weak system for onboarding and integration, evaluate potential ways to strengthen it, looking specifically at the benefits of providing newly-hired executives with transition acceleration advisors.
As you do this, recognize that it's essential to have a well-designed integration advisory process and advisors who have both the business acumen and the behavioral insight required to provide superior support.
Michael Watkins is a leadership transitions expert, co-founder of Genesis Advisers and best-selling author of The First 90 Days and Master Your Next Move. He is also Professor of Leadership and Organizational Change at IMD Business School, where he directs a global First 90 Days fully virtual open program for leaders in transition and co-directs Transition to Business Leadership (TBL), a program designed for experienced functional managers who either have recently transitioned or will soon transition into a business leadership position.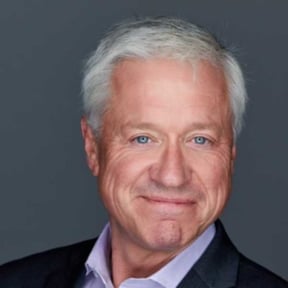 Michael Watkins
Michael Watkins has spent the past two decades working with leaders, both corporate and public, as they transition to new roles, negotiate the future of their organizations, and craft their legacy as leaders. A recognized expert in his field, he ranked among Thinkers50's top fifty management influencers globally in 2019. He is the best-selling author of The First 90 Days, Updated and Expanded: Proven Strategies for Getting Up to Speed Faster and Smarter, the globally acknowledged handbook for leadership and career transitions, which recently earned the accolade of Amazon's Top 100 Leadership Books. He is Professor of Leadership and Organizational Change at the IMD Business School in Switzerland and previously served on the faculty at INSEAD and Harvard University, where he earned his PhD in Decision Sciences.