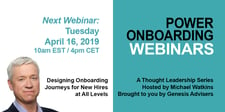 In a recent Power Onboarding Webinar, Michael Watkins and Genesis Leadership Consultants Rose Hollister and Elizabeth Collins shared how Genesis helped a Fortune 500 client design and implement an automated onboarding support system, combining the standard elements of provisioning and compliance with orientation resources and transition acceleration tools. The result: consistent impactful onboarding journeys for employees at all levels.
The Challenge
A global, multi-business organization with more than 120K employees, onboarding 20K new employees each year, realized that it had a highly fragmented and inconsistent approach to onboarding with large variations among businesses, geographies, functions, and levels. The company was knowns as a great place to work and was focused on the employee experience and realized that the current approach could damage its employment brand and negatively impact engagement and retention.
This is a challenge many large organizations face: how to balance the need to deliver a consistent, high-quality onboarding experience while providing the flexibility to deal with differences across businesses, geographies, functions and levels.
The Solution
The solution was to create a system that delivered flexibility in a framework. The framework consisted of these key elements:
The guiding principle that new hires should be taken on "onboarding journeys" beginning with being welcomed into the organization through orientation and integration, and ultimately to full effectiveness.
A platform in the form of an onboarding support system that can both push out content at a specified cadence to provide just-in-time support and provide links to supporting resources for orientation and development that can be customized by business, geography, function and level.
A compact set of "personas" representing the broad classes of employees that are onboarded with enough specificity to provide the right types of support without getting too complex. In this case the organizations defined four personas: wage earners, individual contributors, people leaders and executives.
Consistent planning frameworks and tools for accelerating key dimensions of the integration process, including learning, creating transition plans, and engaging in critical conversations. Here, the organization adopted The First 90 Days® Transition Roadmap™ as its core framework for transition acceleration and developed a library of supporting tools.
Follow this link to watch the webinar recording.