Transform Your Executive Onboarding in Four Steps
Earlier this year, Genesis hosted a webinar with an audience of over 350 senior executives entitled, "From Onboarding to Integration: Accelerating the Transitions of Newly Hired Executives." During the session, Michael Watkins shared the research he conducted with Egon Zehnder into executive onboarding published in "Onboarding Isn't Enough" (Harvard Business Review, June 2017). The findings point to the broad range of practices used by global companies in onboarding new talent and the degree to which companies are effective at each.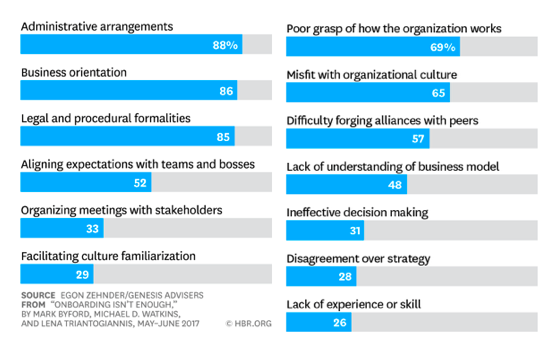 According to Watkins, many businesses think they are doing a good job of bringing newly-hired executives into the fold when they actually aren't. Nearly all large companies are competent at the administrative basics of signing leaders up, but that level of onboarding does little to prevent the problems that can arise when these people start working with new colleagues and grappling with unfamiliar cultural norms and expectations. Companies vary widely when it comes to how much effort they put into integration, with major consequences in terms of time-to-performance, derailment, and retention.
Executive Onboarding Effectiveness Assessment
To help companies understand what executives must do to become effective in their new roles and how to help them accomplish that more quickly, we developed an Executive Onboarding Effectiveness Assessment.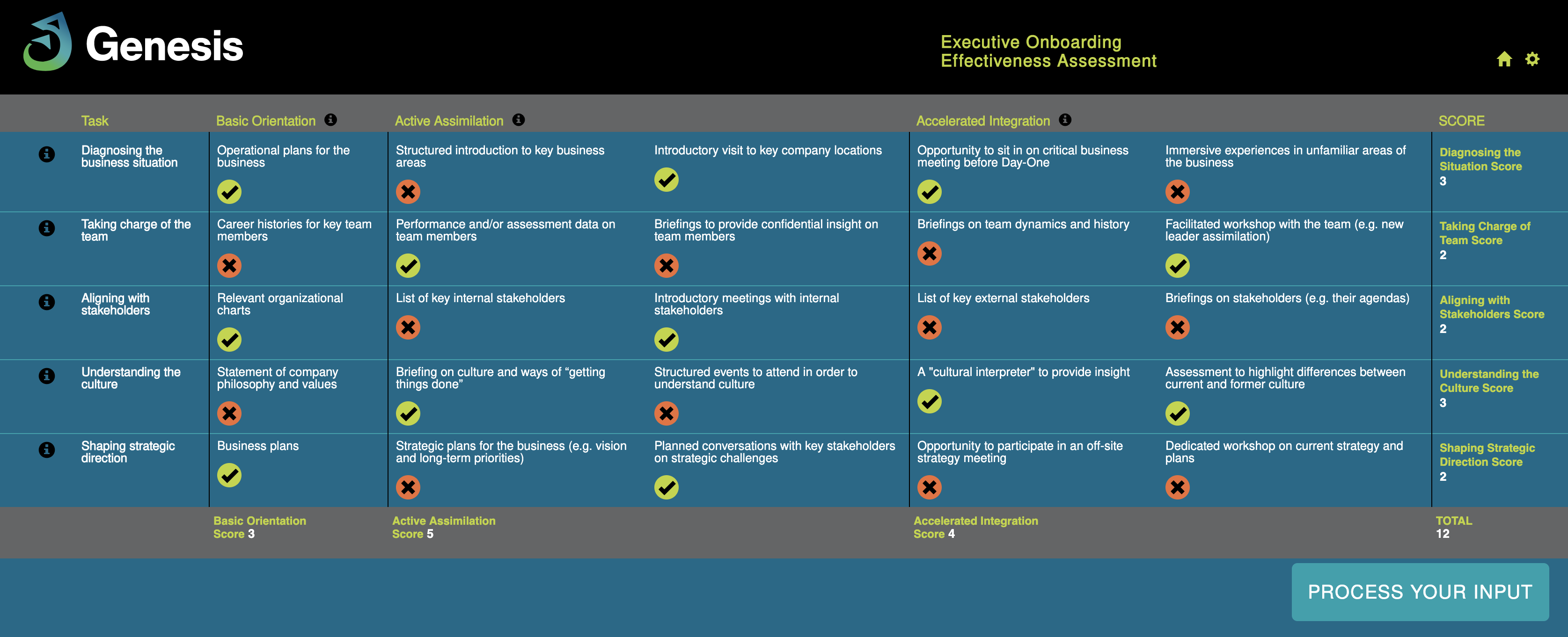 Based on the Five Core Transition tasks outlined in "Onboarding Isn't Enough," the assessment generates a numeric score for each task, as well as a total score indicating how serious your company is about onboarding new talent based on the following four-level spectrum of support:
Sink or Swim: Companies at this level do little more than provide the new hires with space and resources such as technology and assistants.
Basic Orientation: This level involves sharing information about the company, such as policies and procedures, strategy, organization structure, team member evaluations, and business results.
Active Assimilation: At this level, the company proactively organizes meetings to accelerate transfer of deeper knowledge about the business, the team, the culture, and strategic priorities.
Accelerated Integration: At the highest level, the company orchestrates a program of custom-designed experiences that enable new hires to integrate more fully and rapidly. These might include deep-dive discussions about the strategy and team-building workshops.
Publicized on our website, to our social media audience and by the IMD Business School, the assessment drew more than 100 responses from leaders at firms with more than 500 employees. While a relatively small sample of firms, the survey highlights some plausible differences in the extent and features of the onboarding systems of firms of different sizes. Perhaps most notably, a relatively large number of our respondents indicate that their companies have either no process, processes that provide only limited support, or processes that are ineffective — highlighting that substantial work remains to be done to provide newly-hired executives with needed transition support.
Four resources to help you effectively onboard and integrate leaders
Here are four proactive steps you can take to assess and improve your approach to onboarding leadership talent:
These resources will give you comprehensive insight into where organizations routinely fail in onboarding leadership talent, how to identify shortcomings in your organization's approach, how your result compares with our global sample, and in what ways transition experts can improve your executive onboarding.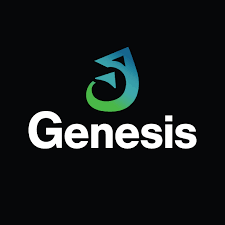 Genesis
Genesis is a global provider of leadership development programs, coaching, and transition acceleration solutions for individuals, teams, and organizations. Genesis offerings are based on the research of Michael Watkins, co-founder and author of the book "The First 90 Days." Genesis provides a comprehensive range of programs, coaching processes, and consulting services aimed at speeding up transitions at all levels, from front-line managers to C-level executives.