How to Lead Authentically In Your First 90 Days
Taking on a new role is a critical leadership challenge. In the first 90 days, you must demonstrate competence as well as character while gaining trust with all the stakeholders: direct reports, supervisors, peers, suppliers and customers. While many advise these new leaders to bring their whole self to work and be authentic, Professor Herminia Ibarra cautions there are many authenticity paradoxes new leaders must be aware of. First, leaders should find the balance between being chameleon-like and being true-to-self. Next, they need to learn to walk the tightrope between building influence and being decisive and authoritative. Lastly, they may need to update the stories of how they got here to adapt to a new leadership identity.
While "chameleon" may have a negative connotation in the professional setting, those who are quick to adapt to new situations do tend to advance quickly due to their flexibility. But chameleons can also come across as disingenuous or lacking moral conviction. Alexander Hamilton famously called out Aaron Burr accusing him of lacking conviction when Burr switched his political party. In contrast, being completely transparent can also lead to disaster, as Alexander Hamilton found out in revealing the letters of his affair with Maria Reynolds. The balancing act here between being chameleon-like and being fully transparent is fundamental to how you evolve your leadership style.
Driven by conviction like Hamilton, former British Prime Minister Margaret Thatcher, the Iron Lady, is another example of being over-reliant on beliefs and past successes. Despite notoriety and policies enacted as prime minister, her own power eventually became her undoing — she was ousted by her own cabinet.
Navigating between authority and accessibility is not only challenging for political leaders like Thatcher, but also for true-to-self leaders. In coping with unfamiliar situations, they might come to rely on only hard facts and past knowledge in lieu of building consensus. In those first 90 days, there are valuable opportunities to learn, to become keen listeners and to allow time for your own perspective to emerge. Being a taskmaster can quickly distance new leaders from their team. Yet, when they become too approachable and vulnerable, it may be emotionally draining and exhausting. Building relationships and influence will take time, but in these new roles, leaders may also need to take decisive action in order to build momentum.
As leaders, there are defining moments in life that motivate us to keep striving forward and stay on our own personal narrative arc. However, over time, we may become too dependent on these narrow interpretations of our life story and lose the opportunity to grow. Dan McAdams, author of The Redemptive Self, talks about needing to not only believe your own story but to embrace how it changes over time. Do not stick to only version 1.0 of your own life story — update and revise through introspection and share these stories with your stakeholders. Someone who falls in the category of true-to-self may find that the revision process feels disingenuous, while chameleons update too quickly and find it difficult to stick to any one version. Be patient and allow these stories and identities to emerge. Your leadership identity should grow as you grow.
New leaders can prepare to take on the challenge of adapting their leadership style and identity with incremental improvements in a new role. It requires them to become aware of the limits of being completely true-to-self, the urge to invoke authority and the tendency to get stuck on only one version of one's own life story. Knowing that the journey ahead is not about the chameleon-like superficial changes but rather a steady evolution into a mature version of themselves as leaders is the true promise of authentic leadership.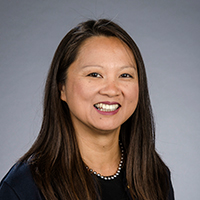 Kelly Huang
Kelly is a Genesis Leadership Consultant, who specializes in executive coaching, facilitation and leadership transitions. She works with Fortune 500 clients to speed up and support transitions at al levels. She helps executives and founders develop their executive presence and improve decision-making. Prior to Genesis she designed virtual leadership programs leveraging her experience at Harvard Business Review Publishing.