In their HBR.org article, Genesis cofounder Michael Watkins and his IMD Business School colleague, Robert Hooijberg share their vision for what the future of work will look like post pandemic. They believe that a hybrid model will become increasingly dominant, requiring organizations to change the way they design management development experiences.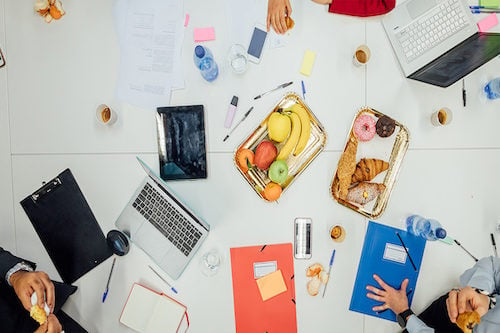 The authors suggest that in order to foster collaboration, innovation, acculturation, and dedication — the four dimensions of impact in management development — — in a hybrid context, organizations must leverage "the best of what both virtual and face-to-face experiences can offer" to create immersive experiences using five "design drivers," the descriptions for which are excerpted below and detailed in the full article:
Purposeful focus. Face-to-face experiences inherently have the potential to generate and sustain focus. When we are physically together, it is more difficult to give in to all kinds of distractions. Group dynamics operate much more effectively to reinforce focus in face-to-face interaction: It is easier for our colleagues to keep us focused and we all keep each other on task.

Interpersonal bonding. This is particularly important in creating safe environments for collaboration and innovation. Bonding refers to the creation of emotional connections that lead to trust, support, and openness among participants.
Deep learning. Conceptual learning means gaining an understanding of ideas, such as empowerment or return on equity. Deep learning means wrestling with those concepts, debating when and how they are useful, and understanding how subtle differences in context influence their application.

Unencumbered experimentation. Experimentation in business is often impeded by concerns over turf, resources, advancement, credit, and so on. Immersive face-to-face experiences are necessary to foster the development of personal trust and bonds that allow for experimentation unencumbered by these concerns. The experimentation is done through design thinking and prototyping minimally viable products under strong time pressure and with rounds of quick feedback.
Structured serendipity. Serendipity, our fifth and final design driver, refers to the effect of stumbling onto something truly wonderful while looking for something entirely unrelated. A well-designed immersive experience consists of a balance of formal and informal elements that create fertile ground for such a moment. This structuring can include elements such as the selection of a diverse set of participants, the pedagogical variety of the program, the opportunities to connect with different colleagues, the choice of locations that foster formal and informal connections, and the spaces that are conducive to reflection and sharing.
In conclusion, it is important that companies "start considering what warrants face-to-face interaction and how to make the most of those precious opportunities" in anticipation of a future in which blended learning will be the norm and not the exception.
You can read the full article by following this link to HBR.org.
Genesis has deep experience in the design and implementation of blended learning experiences. Visit our Leadership Development page to find out more.