Unlocking Efficiency: The Key to High-Performing Teams
Efficiency is the cornerstone of successful team operations. Demands for time and energy can slow our people down and corporate cultures requiring copious meetings can create efficiency drags. To optimize your team's performance, leaders need to find ideal ways to organize and optimize meetings, solve problems, and make decisions. By getting these elements right, you can ensure that your team operates with the right cadence and meeting routines to advance the most important priorities, tackle challenges and achieve results.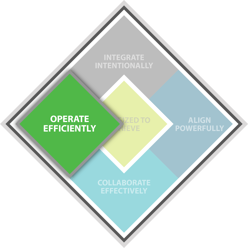 Enter: the Operate Efficiently pillar of the Team Development Accelerator. This pillar provides clear proven practices for your team to adopt to capitalize on maximum productivity. By optimizing your team's meeting structure and management practices, and by instilling rigorous problem-solving and decision-making processes, you can free up precious team time, reduce frustrations and significantly enhance your team's output. The result will be a team that engages in productive discussions and rigorous debate, and more consistently achieves team goals. With our modules, your team can unlock the secrets to become a truly high-performing team.
Accelerate Your Team Today
In today's fast-paced business landscape, teams often find themselves grappling with new challenges, transitions, and the need to adapt swiftly. To meet these demands head-on, we are excited to introduce Genesis Adviser's newest solution– the Team Development Accelerator.
Building upon Michael Watkin's quintessential First 90 Days® Framework, our Team Development Accelerator delivers a comprehensive approach that combines proven concepts and tools, expert design, facilitation, and coaching to accelerate team development. Our five essential pillars enable teams to integrate intentionally, align powerfully, collaborate effectively and operate efficiently to become energized to achieve.

Craig McCall
Craig is a senior executive coach, consultant, and facilitator with an expertise in leadership transitions. He has coached Fortune 500 C-suite leaders and their teams and aided in the selection of talent for a variety of senior roles. For 20 years, Craig has coached hundreds of executives to prepare for the C-suite, smoothly on-board to stretch roles, operationalize and execute on strategy, build executive presence, drive change, and create high performance teams. He assesses talent for selection and succession, and directs leadership programs for global companies. Recent work includes: coaching the CFO of a Fortune 500 materials business for CEO succession readiness, coaching the EVP of a Fortune 50 bank around C-suite readiness, leading a HiPo development program for a large manufacturing company, and executive team coaching for the division CEO's management team of a global bank.