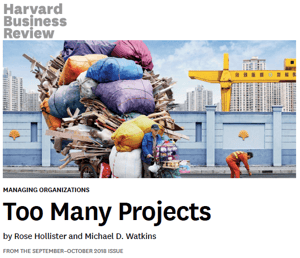 In their Harvard Business Review article, "Too Many Projects," Genesis Co-Founder Michael Watkins and Genesis Leadership Consultant Rose Hollister outline the consequences of initiative overload — an increasingly common phenomenon in organizations where resources are not aligned with strategy — which include losses of valuable human capital. There are numerous potential causes, according to the authors:
Sometimes leaders are unaware of all the initiatives under way and their impact on the organization. In other cases organizational politics conspires to let initiatives continue long after they should have run their course. Either way, overload can result in costly productivity and quality problems and employee burnout. With record low unemployment, companies that do not adjust the workload are also at risk of losing valuable talent. One leader who used to head up talent consulting at a human capital firm told us in an interview, "While I enjoyed and respected my team and found the work motivating, the pace was unsustainable. I chose to leave before I had a heart attack."
Watch this brief video in which Michael Watkins shares the research and thinking behind the article and provides guidance for how to address initiative overload and prevent it from happening further. Then, take advantage of the resources listed below.
Related resources
1) Download our "Guide to Launching a New Initiative," a short questionnaire that senior leaders can use in deciding which projects get the green light and which are culled or tabled, to help prevent initiative overload from happening in the first place.
2) Watch our "Initiative Overload: Aligning Strategy with Resources" Power Onboarding Webinar On Demand in which Michael and Rose tell you how to spot the signs of initiative overload and what steps you can take to address it in your organization.
3) Watch the Harvard Business Review Whiteboard Session recording entitled, "Why Companies Need to Let More Projects Die" featuring Michael and Rose. In the session they tell you what initiative overload is, how to tell if you have it, and what to do about it.
4) Listen to the Harvard Business Review Ideacast entitled, "Stop Initiative Overload" when Michael and Rose speak with Sarah Green Carmichael and share practical tips for senior-level leaders to truly prioritize the best initiatives at their company.