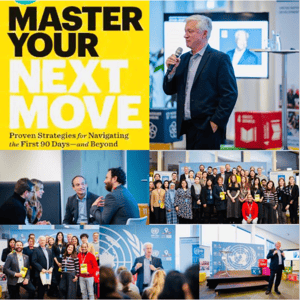 As part of a series of events organized by Tatarklubben, the Harvard Business Review Press affiliate in Denmark, Genesis co-founder Michael Watkins was invited to give a presentation about leadership transitions, based on his globally recognized First 90 Days framework for onboarding and the common leadership transition challenges outlined in the updated and expanded version of Master Your Next Move (Harvard Business Review Press, April 2019).
The event was hosted at the UNDP's state-of-the-art UN City campus in Copenhagen, an eco-friendly and architecturally impressive facility. Genesis CEO and President Richard Wetzler, and Genesis Leadership Consultant Millan Alvarez-Miranda, accompanied the Genesis co-founder and Thinkers 50 ranked transitions expert on his Denmark tour, which included two days of events in Copenhagen and Aarhus with senior executives and HR and talent management professionals interested in changing the way their companies approach onboarding.
Included in the two-day tour were CEO Roundtable discussion with Per Bank, the CEO of Salling Group, Denmark's largest retailer, and with Atos Medical CEO Britt Meelby Jensen. Per Bank and Michael Watkins were interviewed by leading Danish publication, Borsen, in this article written by Tobias Hansen Bødker.
Transitions into new roles are the most challenging times in the professional lives of leaders. Whether you are being promoted, joining a new company, or making a move overseas, the actions you take during your first few months can determine whether you succeed or fail. Learning the fundamental principles of leadership transitions can help you avoid the common mishaps many leaders face throughout their career journey.
In Master Your Next Move, Michael Watkins helps leaders self-diagnose their current transition challenges and provides a robust framework that they can apply to accelerate any transition they are facing. In this follow up to The First 90 Days, the book The Economist called "the onboarding bible," Watkins provides specific strategies to help professionals deal with both personal adaptive changes and organizational change challenges. Leaders can come back to this book at any point over the course of their career and receive actionable advice on how to overcome eight common transition challenges outlined in the book.
Master Your Next Move is an essential guide for the most common — and most difficult — transition challenges leaders face when taking on a new role. The First 90 Days was written to introduce leaders to the principles of successful transitions. This complementary book helps leaders apply those principles to the challenges they encounter in their new role and in turn, sets them up for future success. Download the new introduction to Master Your Next Move.
MASTER YOUR NEXT MOVE
The Essential Companion to The First 90 Days
Michael Watkins
Harvard Business Review Press
978-1633697607
$30, Hardcover
April 9, 2019